I want to introduce you to the Rosencrants Family. They are adopting from Eastern Europe! You can follow their adoption journey on their blog!
I've asked some questions to help you get to know Scott and Lydia.
Tell me about yourself and your family.

Scott and I married in 1998. I am a professor and he is a stay at home dad. We have eight children - seven through international adoption and one biological.

What can you tell me about the child you are adopting?
Gabby (who we will call Nora Lynn) is three and has cerebral palsy, microencephaly and a heart condition. She also has lovely long eyelashes and cheeks you could kiss for days. Marsha (who we will call Anna) is almost four and has hydrocephalus and was severely premature. She is also rumored to be as sweet as sugar and has the most beautiful blue eyes. Neither girl is walking or talking and both are about the size of one year olds. However, they are dearly loved children of God and both have beautiful smiles! We can't wait to get them home!


Marsha




Nora

Tell me why you decided to adopt a child with special needs? This world is not our home, and Jesus did not call us to a comfortable life. People are always calling us "saints" and saying "I could never do what you're doing." What they don't realize is that we're the blessed ones! Our children are the greatest blessings we have!



What would be your advice to anyone wanting to adopt?


First of all, have faith in God and trust in His timing. In every one of our previous adoptions we have experienced delays. At the time, we were angry and confused, but in every situation our children came home at just the right time. Also, stay on top of the paperwork, but don't let it become all consuming. And lastly, go for it! God will provide!
Please grab their button to put in the sidebar of your blog!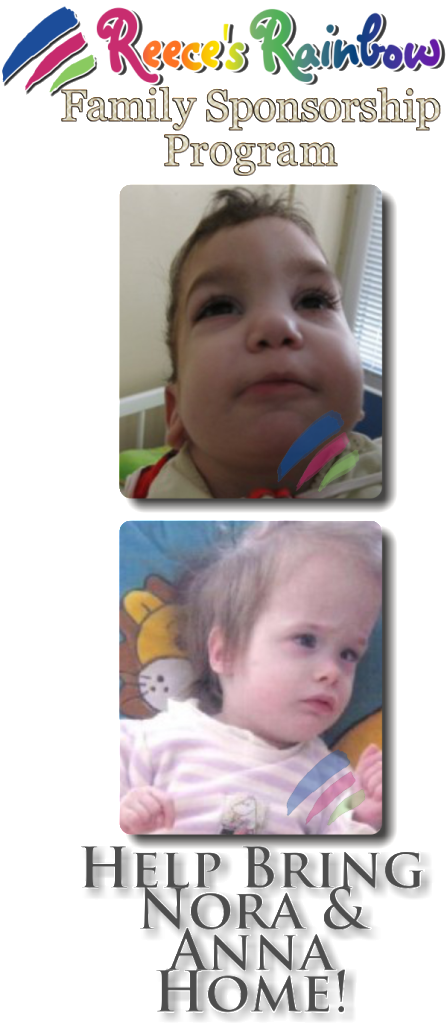 Grab This!
For other ways to help the children from Reece's Rainbow, please read the Ways You Can Help page on the Reece's Rainbow site!
Are you adopting? If you'd like to be featured on the 'Meet the Families' segment, please CLICK HERE. We'd love to feature your family!
If you have a blog, we'd love for you to put our Meet the Families Button on it!


Grab This!

Be sure to right click on the box below and then select all.