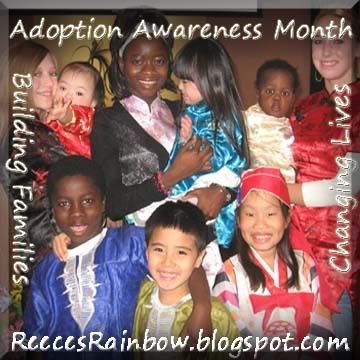 The Andrews family are an inspirational family! Their love of children and those with special needs is evident in their home!! An adoptive "second set" of children includes four children close in age- and three little ones with Down syndrome! I know you'll enjoy learning about their family!
We are William and Rita Andrews currently live in Millbrook AL. William is in the military and Rita is a on the go full time Mom. Our story started 21 years ago when we met and fell in love. It was the summer before our senior year in high school. We dated over a year and then got married…Our twins were born the first year of marriage and we were blessed with a son (Michael) and daughter (Lyndsey). They are
now 19yrs old.
Rita come from a large family of 5 siblings and William from a small one of only 2. When we met, I knew I wanted to have several children… William wasn't sure.. When the twins were 3 yrs old, we began taking our foster parent classes so we could get registered with the state of Florida. We completed our class and found out we were moving do to the military. Once we got settled in we had our homestudy update and again registered in our new county, we waited for a placement. After a few years and no placements, we just figured it wasn't God's timing for us to have any more children. At the age of 29 years old, Rita had to have a hysterectomy due to cancer, so the hopes of having any more biological children were now over. I knew my God had something powerful for our family, we just had to wait and see what it was.
In the summer of 2000 we moved from Florida to Alabama. Our new church was planning a
mission trip to Guatemala and we signed on. We were there for 8 days and fell in love with so many of the children and the beautiful country. It was in Guatemala, that we now knew where our future child/ren would come from. The children we fell in love with were not available for adoption, so we began looking into other avenues. We came across Project OZ adoptions and there was our future PRINCESS. Giovanna Grace was 12 months old and very sick. She needed open heart surgery very badly as she only weighed 9 pounds. At the age of 16 months she did in fact have her surgery and it was a total success. Oh, and I forgot, she had something extra special too…..Down Syndrome. We had no clue how to parent a child with any disability as our twins were typical developing. My sister's first born was a beautiful little girl with Down syndrome, and I know that the Lord was preparing our hearts for our future children. We never lived close to my sister, but when going home on vacation, seeing my neice was joy. I never looked at her as different. It took longer to learn things but most importantly SHE WOULD LEARN them….so adopting our Giovanna….We couldn't have been happier.
We started the long process of adopting from Guatemala and finally after 2 trips and 12 months of waiting our new girl finally comes home. She was 22 months and weighed just shy of 19 pounds. She was sitting up and playing with just a few toys when she joined our family. After only 4 months of being home she finally WALKED! Giovanna brought so much excitement to our home! Watching her learn and change was the highlight of our day. She developed so fast with the love of a family.
After just a few months of Giovanna being home, getting all her specialist taken care of, getting therapy started, I knew I wanted another daughter just like Giovanna. I wanted her to have a sister, close in her age, which would ultimately face the same challenges that she would…so our journey began again. Exactly 1 yr 1 week of Giovanna being home, we bought home our Indian princess Isabella Faith. She was born in NYC by a Indian woman here on vacation. She went into labor early and had Isabella. Finding out her new daughter had Down Syndrome and a few other minor health issues, she knew she could not return to her home country and provide for her the
way she needed, thus making an adoption plan. We were one of over 300 families here in the US that applied for her….Our God was once again fulfilling my heart's desire and preparing this birth families heart for our family. We were chosen and within 2 weeks of getting the news, we were on a plane to NYC to finally meet our new angel. Isabella was only 3 months old when she was placed with our family forever. I had prayed for years for another baby (infant) and just didn't ever think we would be so blessed. Our family was so perfect and I never thought it would happen. Little did we know, the Lord was working it all out. Isabella is such a fun and exciting little girl. When Isabella was 7 months old we had the opportunity to meet her birthmother, 2 brothers, Aunt, Uncle and cousins while staying with them in Chicago for a week. What a treasure that was. I will always hold that week dear to my heart.
Giovanna and Isabella blended so perfectly into our family. The twins were enjoying having two new sisters and all the fun small ones are to the family. William and I were on cloud 9! Life was so good…our God was so faithful and we couldn't have dreamt of anything better.
We started the process to adopt from Serbia after Isabella had been home almost a year and half. Unfortunately that plan fell through as the child we wanted ended up not being adoptable. Our dreams were crushed.
About a year later, we were asked about adopting a sibling group of 2, both girls, one with Down
Syndrome and one typical developing from Bogota Colombia. We agreed and within 3 months we were on a plane for a months long stay in Colombia. Joining our family was Gabriella Joy age 5 and Lilyanna Hope age 3.5. Gabby has Down syndrome, thyroid problems, a cyst on her brain, nystagmus and a very short stature. The girls have been a joy. The bonding process took some time for Lily though. She understood that her world had totally changed. In her orphanage she and Gabby were one of the favorites and got away with a lot of things. Her temper tantrums were out of this world. One minute she was fine, playing with her new sisters, and the next she was hitting them and not obeying. After being home for about 5 months, this was still a huge issue for us. She would have 2 hour fits. We really had to seek our Lord for direction. After a lot of prayer, lots of research and the bonding finally started happening, our life started to settle into a regular routine. All 4 girls have adjusted wonderfully to one another and enjoy having a play group at home all the time. We have all been together now for 19 months.
Lily, Giovanna and Gabriella are in kindergarten now and doing wonderful. Giovanna is reading, knows over 200 signs and is teaching sign language to her class. Lily is learning to read and Gabby is learning many new skills as well. Isabella is in preschool and loves it. Isabella and Gabby are really trying hard to talk. Giovanna and Isabella are working really hard on potty training…
Their health is overall good, but the winter month's do present itself in an ugly way. We are not a showall kinda family so its alittle wild when we are in public. Having a somewhat large family of 8 is already enough for folks to stare, but when they notice 4 little girls all about the same age it opens up for discussion. When its noticed that 3 of them have DS we get tons of questions and alot of stares. We are so eager to share the story of our girls and the joy that each of them bring. I strongly encourage anyone thinking of adoption to please consider opening your family up to the UPside of a child with DS. ....Your life will be forever changed in a POSITIVE and FUN way.
Our world is forever changed. Opening up our hearts and family to these 4 girls, has been the most rewarding experience ever. Our faith in our Lord Jesus Christ, has been the foundation to our family and in our ability to parent them. We are always looking for new ways to teach them how to succeed to their fullest potential. I pray that others will be touched by our story and will open their homes to a loving special child that just happens to have something extra special….Down Syndrome. I know our girls have touched many lives, and I pray that they will continue to be a inspiration to others in this world.
I know that the Lord isn't through with our family yet and I eagerly await what His plans are.
You can visit the Andrews family blog at www.andrewscrew.blogspot.com to see more of their daily happenings.
Thank you, William and Rita, for sharing your family with us!
The Andrews family are advocating for a little girl in India with Down syndrome. You can view her info at www.reecesrainbow.org/oldergirls.htm, she is listed as Valerie.